Restore Comfort Rapidly with Our Excellent Furnace Repair in Stillwell, Missouri
Winter doesn't seem so bad when your furnace is performing like it is supposed to. But when disaster arrives at your doorstep, the last thing you want to worry about is waiting around in the cold for furnace repair in Stillwell, Missouri. Rather than breaking out the heavy blankets or coats, why not give the furnace specialists at Myers Furnace Company a try?
Each and every one of our staff is fully trained, licensed and certified to tackle a broad variety of heating issues. You'll get prompt, neighborly service. Once the project is completed, you'll wonder why you ever put up with anything else. We'll work as quickly as we can to get your heat back on. The next time winter rolls around, you'll be too cozy to notice.
It doesn't matter if you're looking for emergency repairs, routine maintenance or installation of a brand-new system. Our specialists are ready to find and resolve them all.
A large number of common furnace problems seem easy to fix at first. For example, if your furnace uses both electricity and natural gas, caution is always the ideal option. Sometimes the problem is bad enough to need professional help. Qualified technicians have the skills and tools to work quickly and safely. But don't fret because there are still many things you can do to observe the health of your equipment. Your senses are often some of your best tools. They'll notice some of the first signs of trouble, like strange noises or smells.
You'll want to inspect electrical systems like the thermostat and breaker box. Flipped switches, faulty controls and even damaged wiring could be the culprit. If checking these places for damage doesn't uncover anything, it might be time to call for a professional.
Keeping all important components free of dirt and debris goes a long way in furnace maintenance. Regularly replacing the air filter keeps debris from getting into the rest of the HVAC system. This stops many problems from occurring in the first place.
If at any point you decide a problem is best left to a professional, don't hesitate to give us a call! We're proud to help you quickly and safely.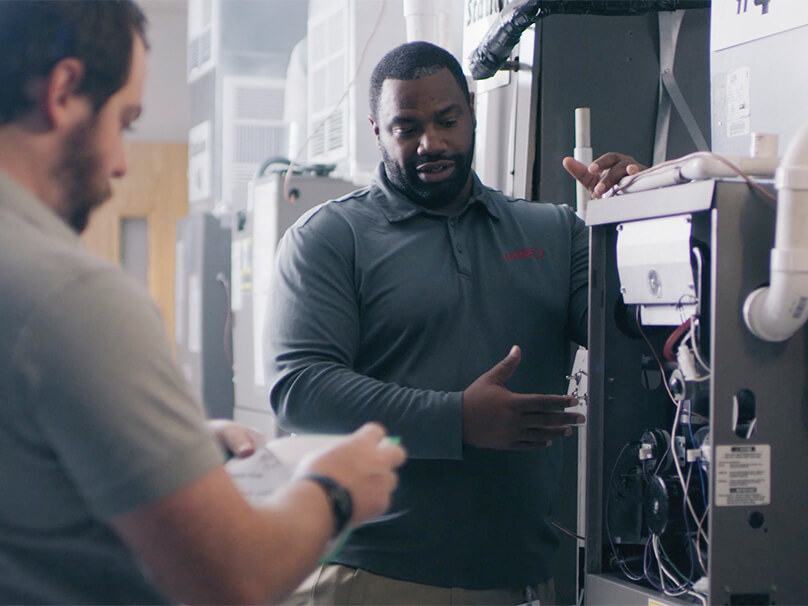 Furnace Service in Stillwell, Missouri and Surrounding Areas
Anyone who's been stuck looking around Stillwell for quality furnace service knows how irritating and time-consuming it is. You may be tempted to try maintenance yourself but investing in professional care for your HVAC system will save you a lot of time and money in the long run.
Consider a few of the benefits. There's a sense of security and safety when a professional is on the job. With routine maintenance, you're lowering the chance your furnace shuts down entirely.
Now's a perfect time to touch on our annual furnace maintenance plans. These plans are designed to space out a couple of service calls each year. We'll have multiple opportunities to review the health of your HVAC equipment. These visits will help your warranty stay in good standing. If you'd be interested in a maintenance plan, talk to our specialists the next time they're nearby!
During each of these service calls, we'll thoroughly survey all key components of your system such as the burners, blower motor and pilot light. If any parts need extra attention, we can assure you it'll be taken care of.
As nice as it would be, nothing can make your furnace last forever. Many furnaces last for anywhere from 12 to 17 years, sometimes a little more with routine maintenance. But soon you'll notice your furnace runs less effectively, requiring more energy to generate the same amount of heat.
With enough time it arrives at a point where you're spending more money on repairs than what a new system would cost outright. We'd like to avoid that. Instead, why not consider taking advantage of Myers Furnace Company's furnace installation in Stillwell? Current technology make these furnaces some of the most energy efficient, quiet models available.
Don't worry about knowing everything the potential choices. We're more than happy to help you study your options. Pricing, models and preferred features are important to consider to make the optimal decision for your needs and budget. No matter what you decide, we promise it's a dependable, effective product.
Give us a call at 816-249-1619 or contact us online today if you'd like to schedule an appointment.